OBI Express - the next generation of B2B solutions
OBI was created by the OBI Consortium to facilitate a more "webified" version of business-to-business (B2B) e-purchasing. In particular, OBI supports web-shops and supplier-hosted catalogs that also is the norm for consumer-oriented e-commerce (B2C). But as requirements in B2B differs from B2C, OBI still keeps the buying organization's authorization processes in "sync" with the surfing purchaser.

OBI Express takes OBI into the next generation by adding better security, scalability, extensibility, robustness and interoperability to the OBI standard. OBI Express builds on industri standards HTTP, HTTPS, PKI, Web Services, XML, XML Schemas and XML Signatures.
OBI Express - the cost efficient alternative
OBI Express can be run in an ASP environment on both buyer and seller side. (In europe Internet banks are good examples of appropriate ASP environments) By running in an ASP environment, OBI Express can be run very cost efficiently and thus opening the B2B market to smaller companies with limited wallets and organizations.
B2B E-Commerce today
B2B business volume has grown tremendously in recent years, now representing a considerable share of larger companies' commerce. However looking closer on how B2B Commerce is conducted, one finds that E-Commerce is usually centered around one large corporation forcing its suppliers to trade electronically. It's very rare that smaller companies with limited organization and economy take the initiative to conduct E-Commerce.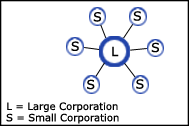 B2B E-Commerce tomorrow - Peer-To-Peer
OBI Express focuses on bringing B2B E-Commerce "to the masses". By running OBI Express in cost efficient ASP environments, B2B E-commerce has the opportunity reaching smaller companies making B2B truly global and peer-to-peer based.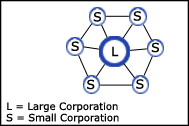 The OBI Express phases
OBI Express covers the complete electronic shopping process, from finding partners to receiving invoices. The entire process can be divided into a number of steps, Finding partners, Creating strong relations to partners, Logging in to partner webshops, Checking out a shopping basket, Converting the shopping basket to an order and finally Receiving an invoice.

Throughout the description of OBI Express, Company A will represent the buying company and Company B will represent the selling company.
Finding partners
OBI Express demands that all companies using OBI Express has a WSD (Web Service Discovery) service running, and that WSD service must be accessible using one static URL. Through the WSD anyone can get all the information of what interfaces and version of interfaces a company is supporting. The company WSD URL can be published anywhere it makes sense, e.g. the company website, an UDDI registry or even in the yellow pages.
Creating strong relations to partners
Having the WSD URL for Company B the next step is to create a strong partner relationship. By querying the WSD service an URL to Company B's signup interface can be retrieved. To become partners, Company A signs a request with its private keys and sends the request to the signup interface of Company B. If Company B agrees, a signed positive response will be returned.

Using the signed request and response the companies will be able to recognize and verify any further messages sent by the other partner, and thus creating a digital relationship between the two companies.
Logging in to partner webshops
After creating a strong relation to partners the next step is for Company A to login to Company B's webshop. To do this Company A queries Company B's WSD service to get the interface for login. After getting the login URL, login is proceeded with a Purple login.
Checking out a shopping basket
Inside the webshop Company A collects all desired items into a shopping basket (standard webshop technology), and proceeds to checkout. At checkout the shopping basket signed by Company B is transferred back to Company A's purchasing system where the representative for Company A looks at the shopping basket in Company A's notation (all shopping baskets are viewed in the same notation regardless of selling company).

The Company A representative has a number of options at this point:
Converting shopping basket to order
The shopping basket is signed with Company A's private key and sent to Company B.
Edit the shopping basket
The representative logs into the webshop again, this time taking the created shopping basket with him. In the webshop the basket is editable, just like when first creating the basket. A new checkout brings the new shopping basket back to Company A's purchasing system.
Save the shopping basket
The shopping basket is saved in the purchasing system. Later on the shopping basket can be converted to an order or edited. (described in previous sections)
Cancel the operation
Discarding the shopping basket.

Receiving an invoice
When Company B receives an order, it will send a signed invoice back to Company A. The invoice references the corresponding order to give Company A the option to automatically match the invoice against the order.
In addition
In addition to the described process of shopping with OBI Express, many details of OBI Express are not described in this white paper. These details are not described in text anywhere at the moment, please contact us at info@x-obi.com if you have any further questions.